Need to get caught up on your Gmail? Try Gmail for mobile. Keep your conversations going and get to any message you want - anywhere you are - for free.
Try our faster UI and fly through your email
Quickly search and find what you need in your email
Compose and read your email offline
Features:
Basic offline.New! Compose and read your most recent email even when you're on the subway or plane.
Multiple accounts.New! Quickly switch between your Google Apps email and Gmail from the same client.
Multiple Mobile Drafts.New! Jot your thoughts down, finish and send later.
Shortcut keys.New! Undo, scroll up and down, archive, delete, refresh at the push of a button. See Menu/Help in the app.
Language Support.New! Gmail for mobile 2.0 is available in over 35 languages.
Message autorefresh. Gmail delivers messages to your inbox without you having to refresh the browser.
Address autocomplete. Gmail helps you complete an address – you only need to type out the first few letters of your contact.
View attachments. Open attachments you receive in messages, including photos, Microsoft Word™ documents, and PDF files.
Gmail goodness. Spam filtering, search, labels, filters, stars, and lots of space.
BlackBerry email client. You can also use BIS to sync your Gmail with the BlackBerry email client. Check your carrier portal or learn to set it up here.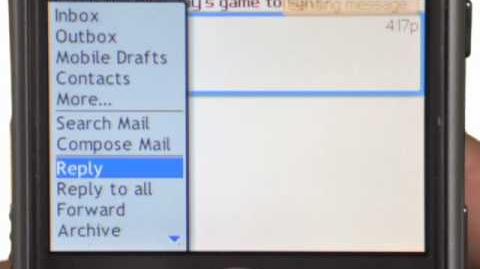 External Links
Edit